Funded projects
Funded projects are established to promote and enhance academic/research activities at the university using funds
provided by companies and other organizations with the aim of promoting academia-industry collaboration and
supporting academic activities. There are five projects operated as of April 2016.

Department of Musculoskeletal Biomechanics and Surgical Development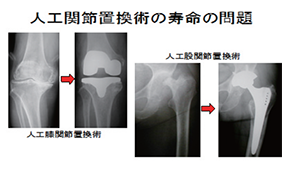 The Department of Bioengineering and the Development of Treatment for Locomotive Organs were funded by Biomet Japan Inc. and Smith & Nephew Orthopaedics KK and established in April 2012.
Joint replacement surgery for the treatment of orthopaedic disorders involves a concern about the operating life of implanted joint prostheses. Improvement in a bioengineering environment is demanded especially for the treatment of joints of young people. To this end, the development, clinical application and standardization of a new surgical approach are needed. This funded project aims to solve clinical problems in the treatment of orthopaedic disorders through not only clinical approaches but also fundamental research. The project also aims to obtain new findings on the reconstruction and improvement of the function of locomotive organs through bioengineering research on locomotive organs and by using computer image analysis in clinical practice.
Ain and Nitori Department of Integrative Palliative Care Education and Practice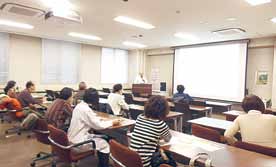 The Ain and Nitori Department of Integrative Palliative Care Education and Practice was funded by Ain Pharmaciez Co., Ltd. and Nitori Co., Ltd.and established in April 2013.
In order to facilitate the diffusion and development of team medical care for palliative treatment through cooperation among staff from various medical fields, the training of palliative care medical staff is provided, and patients, their families and the public are educated about team medical care. The "Palliative Care and Cancer Consultation Salon" offered by the Department of Integrative Palliative Care Education and Practice until March 2013 is being further developed to provide better service. Additionally, cooperation with the Cancer Treatment Consultation Center established at the university hospital's Cancer Research Institute is being enhanced and organized information sharing is being promoted in an effort to provide relief for the pain and suffering of cancer patients and their families.
Advanced Regenerative Therapeutics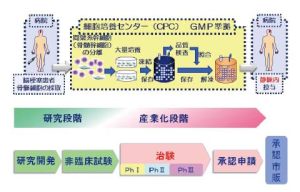 The Advanced Regenerative Therapeutics funded by Nipro Corporation was established in February 2014.
This project works towards practically applying the outcomes of a regenerative medicine clinical trial using autologous bone marrow cells that is underway at Sapporo Medical University. To achieve this goal, a range of technical development projects, including the development of production facilities and materials and the establishment of quality testing methods, have been implemented.
Department of Emergency Medical Services, Life flight and Disaster medicine
The Department of Emergency Medical Services, Life Flight and Disaster Medicine was established in April 2016.
The department's research and goals are as follows:
- Research on emergency medical services in Hokkaido and on the development of a program for educating paramedics and other emergency staff such that they can contribute to the advancement of emergency medical services
- Research for the establishment of a life flight system that operates in the vastness of Hokkaido, where medical resources are very unevenly distributed, and research on emergency helicopter operations, systems for cooperation with life flight-related organizations and the introduction and operation of Medical Wings
- Research on disaster medical care in Hokkaido and on the development of a program for educating disaster medical care workers such that they can contribute to the establishment of a medical care system that enables effective activities at times of disasters