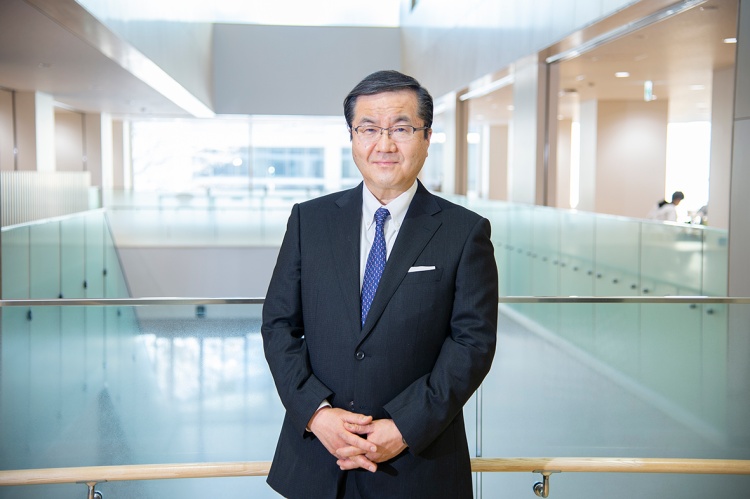 Sapporo Medical University, whose predecessor was Hokkaido Women's Medical College, was established in 1950 as the first medical university under Japan's new postwar medical university system.
At first, there was only the School of Medicine. In April 1993, the School of Health Sciences, consisting of the Department of Nursing, the Department of Physical Therapy and the Department of Occupational Therapy, was established. Then, in April 2007, Sapporo Medical University made a fresh start as a Hokkaido public university corporation. Today, it has grown to become a medical university with approximately 1,500 undergraduate and graduate students and 1,500 teachers in its two schools and four departments.
The university has been engaged in education, research and medical care under the three basic philosophies of "fostering medical personnel with a rich sense of humanity," "contributing to local medical services" and "promoting international activities and leading-edge research."
As a result of the education provided by the university, our students have always had high pass rates on national examinations for medical practitioners, nurses, physical therapists and occupational therapists. For the past ten years, the pass rate for medical practitioners has been approximately 95%, which is higher than the national average, and every year, the pass rate for nurses, physical therapists and occupational therapists is almost 100%.
The university's education is distinguished by the Joint Seminar on Regional Health Service, which provides opportunities for students to focus on the multi-disciplinary cooperation that is needed by future medical personnel. This seminar allows students of the two schools to have practical training together in the local community.
In terms of research, many pioneering projects have been conducted under unique, long-term approaches, in contrast to efforts that focus on immediate profits. As a result, regenerative medicine for the treatment of spinal cord injuries and cerebral infarction and the development of a cancer vaccine have been recognized as leading research projects in Japan, and efforts toward their practical application are under way.
The university hospital provides advanced medical care in internal medicine and surgery. Robotic and laparo(thoraco) scopic surgery using cutting-edge technologies is performed daily, and the Advanced Critical Care and Emergency Center provides advanced, specialized emergency care. Also with a focus on meticulous care, the hospital takes full advantage of the university's School of Medicine and School of Health Sciences.
"The pursuit of medical science and care" and "contribution to community health care" will continue to be the goals of Sapporo Medical University. The university aims to be "a hall of fame for medical knowledge" that draws upon extensive expertise with a global perspective in order to contribute to medical science and care around the world.
Chairperson and President
Sapporo Medical University
Taiji Tsukamoto, M.D, Ph.D.