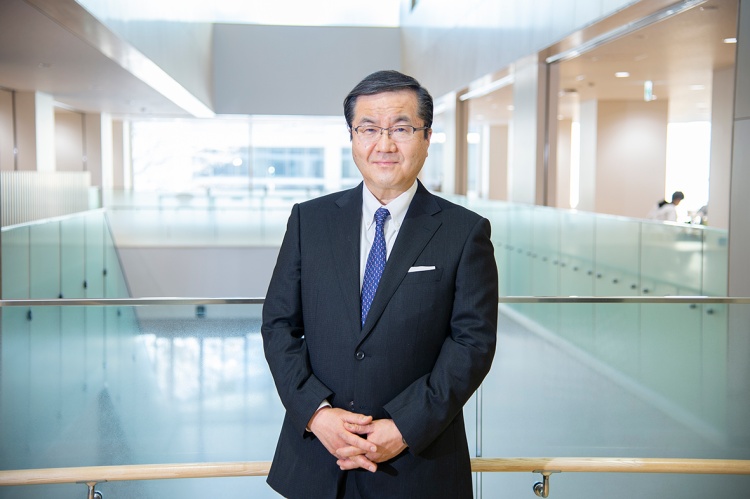 In 1950, Hokkaido Women's Medical College was reimagined as the first institution in the new medical university system established after the war, opening its doors as Sapporo Medical University. We celebrated our 70th anniversary last June (75 years since our founding) and are now moving into an exciting new stage.
We began with only the School of Medicine, but in April 1993, we opened the School of Health Sciences, consisting of the Department of Nursing, the Department of Physical Therapy, and the Department of Occupational Therapy.
In April 2007, we took the step of becoming a Hokkaido Public University Corporation.
Today, we are a comprehensive medical university with approximately 1,300 undergraduate and graduate students and 1,600 teachers in our two schools and four departments.
We are engaged in education, research, and medical care under the three basic philosophies of "educating medical personnel with a sense of humanity," "contributing to local medical services" and "promoting international activities and leading-edge research."

We provide distinctive educational activities such as local healthcare seminars where students from both departments jointly participate in practical training, allowing them to experience local healthcare first-hand, and preparing them for interdisciplinary collaboration as is necessary for future medical practitioners.
For the past ten years, our pass rate for the National Medical Practitioners Qualifying Examination has been approximately 95%, which is higher than the national average. We also take pride in the fact that our pass rates for national licensing examinations for nurses, physical therapists, and occupational therapists are close to 100% each year.
In terms of research, rather than focusing on immediate returns, we have successfully conducted many unique, long-term pioneering projects that have led to valuable results.
Researchers at our institution have developed an autologous bone marrow mesenchymal stem cell-based therapeutic agent which is the world's first regenerative medicine for the treatment of spinal cord injuries; for a limited time, conditional approval from the Ministry of Health, Labour and Welfare has been acquired for its production and sales. Sapporo Medical University Hospital started to offer treatment using this medicine in May 2019, and clinical research is ongoing.

Our university hospital provides advanced medical care in both internal medicine and surgery.
We employ the latest technologies, including robotic surgical support and laparoscopic (thoracoscopic) surgery in order to reduce the physical burden on patients, and our Advanced Critical Care and Emergency Center provides advanced, specialized emergency care.
The hospital takes full advantage of the University's School of Medicine and School of Health Sciences, providing meticulous care and treatment. More than 2,000 physicians and others with advanced medical care skills have been dispatched throughout Hokkaido from the University Hospital in order to contribute to healthcare in the region.
One of the missions of the University Hospital is disaster response across a wide area. The novel coronavirus which spread across Sapporo and throughout Hokkaido early last year continues to pose a challenge. In response to this pandemic, Sapporo Medical University Hospital is working to provide care to patients with COVID-19. In addition, the hospital shares its vast medical knowledge as broadly as possible, with teachers and healthcare staff members providing support to public health offices in Sapporo and the rest of Hokkaido. We are also providing support for measures to contain the spread of the virus in medical institutions and other facilities where infection clusters have occurred.

The fundamental ethos of Sapporo Medical University is an "enterprising spirit and a free and lively atmosphere," and "pursuit of the study and practice of medicine, and contributions to community healthcare." We aim to build "a hall of fame" medical knowledge, drawing upon extensive expertise with a global perspective of medical science and care around the world.
As we look from our 70th anniversary toward our 100th, we are committed to further vitalizing our education, research, and clinical practice.