Sapporo Medical University Website Home
Aims to be a Hall of Fame for Medical Knowledge.
President Message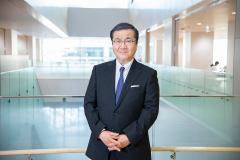 Sapporo Medical University, whose predecessor was Hokkaido Women's Medical College, was established in 1950 as the first medical university under Japan's new postwar medical university system.
At first, there was only the School of Medicine. In April 1993, the School of Health Sciences, consisting of the Department of Nursing, the Department of Physical Therapy and the Department of Occupational Therapy, was established. Then, in April 2007, Sapporo Medical University made a fresh start as a Hokkaido public university corporation.........