About Sapporo Medical University
The Emblem of Sapporo Medical University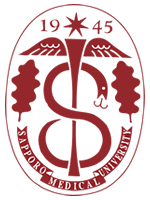 The oval frame symbolizes the harmony of the universe. The year 1945 designates when Hokkaido Women's Medical College, the predecessor of the present Sapporo Medical University, was founded. The "seven-pointed star" is the symbol of Hokkaido. The wings imply development and progress, while the oak leaves are symbolic of wisdom and simplicity. The serpent and cane is the staff of Aesculapius, an ancient medical symbol.
Fundamental Ethos
• Enterprising spirit and a free and lively atmosphere
• Pursuit of medical science, care and contributions to community health care

Founding Principles
We will strive to be a medical university of the highest level.
We will foster medical personnel with a rich sense of humanity.
We will improve medical services for the people of Hokkaido.
We will advance international and leading-edge research activities.

Code of Conduct
1. We will make contributions to Hokkaido, Japanese society and the international community through medical science as well as healthcare science.
2. We will strive to achieve the highest levels of research, education and medical care.
3. We will abide by law and respect bioethics, research ethics and social ethics.
4. We will disclose information beneficial for both local communities and society.
5. We will respect human rights, personalities and individuality and create an
environment free from discrimination and harassment.
6. We will firmly respond to antisocial behavior that threatens bioethics and social ethics.
7. We will protect the local and global environment.
Aim of the University
Sapporo Medical University aims to contribute to the improvement of the welfare of communities in Hokkaido as well as to the cultural development of Humanity by teaching the theory and practical application of medicine and health sciences, conducting in-depth research and fostering students' intellect, morality and practical abilities.
Enrollment Capacity
Undergraduate School
Department
capacity
subtotal
total
School of Medicine
110
110
200
School of Health Sciences
Department of Nursing
50
90
Department of Physical Therapy
20
Department of Occupational Therapy
20

Graduate School
Department
capacity
subtotal
total
Graduate School of Medicine
[Doctor of Philosophy(Ph.D.)Course]
Program of Medical Science
10
60
92
Program of Community Health & Comprehensive Medicine
18
Program of Molecular and Organ Regulation
20
Program of Signal Transduction Medicine
12
Graduate School of Health Sciences
Program of Nursing(Master Course)
12
32
Program of Nursing(Doctor Course)
2
Program of Physical Therapy・Occupational Therapy(Master Course)
12
Program of Physical Therapy・Occupational Therapy(Doctor Course)
6
Graduate Course

| Department | capacity | total |
| --- | --- | --- |
| Graduate Course in Midwifery | 20 | 20 |