Education Philosophy
Aiming to contribute to the enrichment of general education in the health sciences and the development of research and practice, and to train nurses, physical therapists and occupational therapists who can meet the needs of the community and contribute generally to society.
Admissions policy
The School of Health Sciences seeks individuals with the following intentions and abilities:
Extensive basic academic competence and the motivation to attain goals
A concern for human health and the desire to contribute to regional health as well as medical and welfare services
A sense of public morality and the ability to communicate with people sincerely
Self-starting initiative
Department of Nursing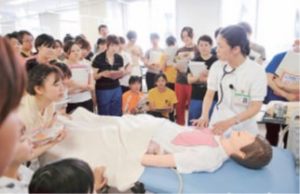 Nursing Practice
In the Department of Nursing, students study practical sciences to support healthy lifestyles and make efforts to better themselves morally and academically. The purpose of the department is to provide education to train persons who will become actively involved in the health care service in Japan as well as in foreign countries.
Curriculum
Division of Medical and Behavioral Subjects
Division of Fundamental and Adult Nursing
Division of Maternal and Child Nursing
Division of Community Health, Gerontological and Psychiatric Nursing
Department of Physical Therapy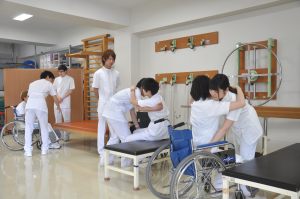 Physical Therapy Practice
In this department, students learn the basic and clinical medical sciences and then move on to build specialized knowledge and techniques such as therapeutic exercises, physical therapy(including electrotherapy and hydrotherapy)and other therapeutic procedures so that they will be able to help people with various diseases and disorders to rehabilitate themselves. The department aims to train students to meet the various needs of the society.
Curriculum
Division of Physical and Therapeutic Sciences
Division of Applied Physical Therapy
Department of Occupational Therapy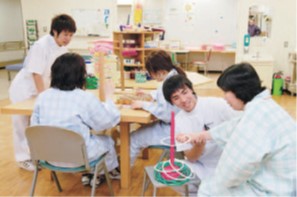 Occupational Therapy Practice
In order to include various human life activities(daily activities, work, play, recreational activities, drawing, creating manual arts and other activities)in therapy, students learn techniques for analyzing the functional, developmental and psychosocial components of movement and activities.
Curriculum
Division of Occupational and Therapeutic Sciences
Division of Applied Occupational Therapy