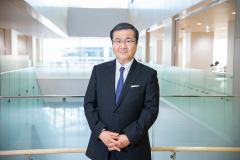 President Message
Aiming at Enhancing Education, Research, and Medical Care and Contributing to Medical Services in Communities.
Established in 1950, our school is a medical university with a 60-year history. On April 1, 2007, Sapporo Medical University introduced a new management system and went from being a Hokkaido prefectural university known as Sapporo Medical College to becoming a Hokkaido Public University Corporation known as the Sapporo Medical University. Presently, the university consists of two faculties; the Faculty of Medicine and School of Health Sciences, and four departments. Each has made an effort to enhance education, research, and medical care and contribute to medical services in communities, while adhering to three salient principles, which are: train medical professionals of well-rounded character, improve medical services for the local residents of Hokkaido, and promote advanced, international research.
One of the impressive characteristics of the university is the students' high rate of success when taking the national examinations for medical practitioners, nurses, physical therapists, and occupational therapists. The passing rates for medical practitioners in 2009 and 2008 were 95% and 96%, respectively. In addition, the university boasts passing rates for nurses, physical therapists, and occupational therapists that are almost 100% every year.
We also provide certified residential community and team-based training programs, in which the students of both faculties collaborate with each other. Students benefit from financial support from the Ministry of Education, Culture, Sports, Science and Technology.
In our long history of medical research, pioneering studies continue to provide excellent results that reflect significant improvement in regenerational medicine for cerebral infarction and the development of cancer vaccines in Japan.
As a Hokkaido prefectural university, we also regard it as our important mission to contribute to medical services throughout communities by fostering doctors and medical professionals, whose sacred mission is to serve the local residents of Hokkaido.
We are steadfastly determined to create a more vital university; one infused with an enterprising spirit and buoyed by a free and lively atmosphere. This is possible due to our faculty's continuously striving to produce excellent results in educational, clinical and research fields, thereby, securing the trust of the citizens of Hokkaido.
President and Chairperson
Sapporo Medical University
Kazuaki Shimamoto, M.D, Ph.D.